"Ford, GM use tech to pursue perfect paint job"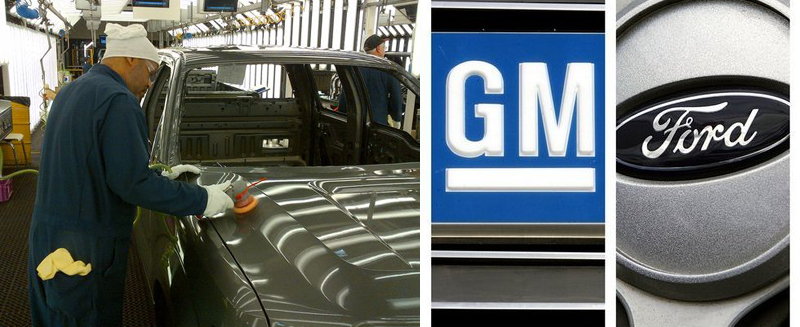 General Motors and Ford are touting the processes and efforts behind the perfect paint finish, which is the first thing to catch a prospective buyer's eye and a huge source of complaints if a defect is detected.
At GM, members of the Blue Suit Crew are trained experts in elaborate precautions to ensure that final vehicle paint finishes are pristine, while Ford is rolling out dirt-detection technology across its plants to find and fix imperfections.
Ford said its F-Series pickups are the latest to use the technology to ensure a perfect paint surface before the spray guns come out.
The system uses high-resolution cameras to take microscopic scans under special lighting that digitally identify surface imperfections finer than a grain of salt. In the past, automakers relied on the human eye to detect imperfections.
The machine is better than people in spotting mistakes because it uses a 3-D imaging system that changes the angles by which it is looking and the light.
If a speck is found at the end of the final vehicle assembly line, workers will polish and buff out any imperfection.
Ford said the result is an 82% reduction in customer complaints about their vehicles' finish within a year, as measured by customer warranty data for F-Series models made at the Dearborn Truck Plant.
"This system ensures better paint jobs and surface finishes for Ford customers around the world," said Tom Dougan, project manager, Ford global paint applications.
Ford also is using the process at its Kentucky Truck Plant and the Valencia plant in Spain that makes the Ford C-Max and Grand C-Max.
Later this year it also will be used at the Chicago (Ford Taurus, Ford Police Interceptor, Ford Explorer) and Louisville, Ky., (Escape) plants, as well as the Oakville plant in Ontario that makes the Edge and Flex.
The rollout continues in 2014 at the Flat Rock and Kansas City plants.
"This is one of the most exciting integrations of optical science and digital technology in the automotive industry," Dougan said. "By combining innovations in vision technology, processing speed and software, Ford continues to invent new technologies that give our customers better paint quality and surpass competitor offerings."
At GM, the Blue Suit Crew searches out potential paint contaminants including silicon and personal hygiene items such as lotion, cologne, hair spray and deodorant, all of which are prohibited in GM paint shops to prevent defects.
"The process of painting a vehicle properly is much harder than the average person would assume. We have many different factors that we have to be cognizant of at all times," said Anton Busuttil, Orion Assembly Paint Shop Area manager. "The weather — including temperature and humidity — is one of those major factors which we have no control over."
"There are precise stages each vehicle goes through in order to leave GM's paint shop with phenomenal colors. The vehicles are prepped, dipped in treatment and sprayed with PVC antichip material, primer, base coat and finally clear coat. The vehicles are then checked to ensure they are in compliance in terms of quality, if they meet expectations, they are sent to General Assembly to continue the build process," Busuttil said.